Les Acacias*** Campsite
The gateway to Tours
Les Acacias, in a beautiful natural setting, is open all year. It is a verdant sanctuary on the banks of the Loire, overlooking Ile de la Métairie island. This prime location was initially a popular holiday spot for anglers and campers, who know a thing or two about a good pitch.
All of our pitches lie within an expansive wooded space, and our team works hard to look after the site and maintain its unspoilt character.
If you'd like to combine the joys of nature with the comforts of home, our chalets with their 4-season insulation can keep you cosy at any time of year. Energy efficient and featuring neat design, optimised living spaces, and fully furnished, our chalets also come with all mod cons: fitted kitchen, TV, and WiFi connection.
All of our chalets were renovated in 2012 so that our international guests can enjoy accommodation that meets their high expectations.
We also have 75 spacious, shaded pitches for holidaymakers in tents or motorhomes.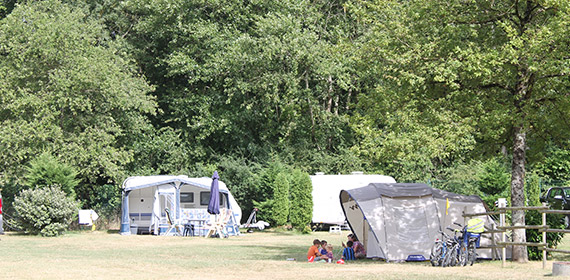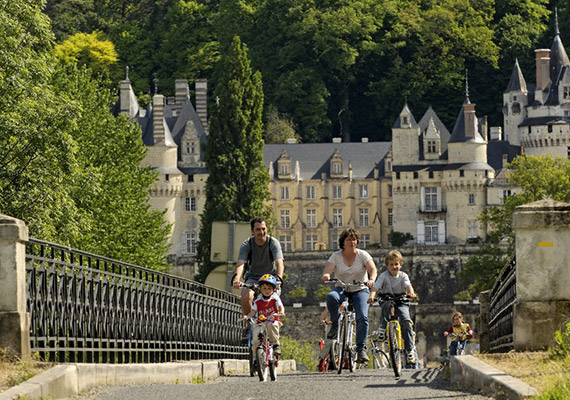 The campsite is the ideal starting point for some beautiful walks along the banks of the Loire in all its majesty, as well as the perfect base for discovering the gems of the French Valley of the Kings.
Nearby, you can visit the fairytale Chenonceau château, and its bold architecture that spans the river Cher. Known as the Château des Dames, it features several ornamental gardens, parkland, and a vineyard.
Sporty types and budding cyclists will be happy to know that Les Acacias lies on the Loire à Vélo cycle path, the only route of its kind in France and which, over 7km, leads straight to the heart of Tours.
Our beautiful region, appropriately named "the garden of France" boasts rich, fertile soil. To honour this natural heritage, we decided to set up a permaculture farm on our campsite, which includes an orchard, a kitchen garden, and a henhouse.
You will find all of its lovingly grown fruit and vegetables on the menu of our restaurant, Le Jardin des Dames, alongside a selection of tasty, fresh produce.
Steak, artisan pizzas, and generous salads: foodies are in luck! A kids' menu is also available, so that even the littlest diners can enjoy quality cuisine.
Our restaurant is a place where you can savour every moment, to a soundtrack of jazz played by local musicians. There's plenty of fun and games for the whole family, too, with boules grounds and outdoor play areas for our guests.
Our passionate, dedicated team is more than happy to cater to all your needs, and their sole priority is for you to experience a holiday as unforgettable as our beautiful region.
Come for a holiday you'll never forget
Come for a holiday you'll never forget in the comfort of abundant nature
Les Acacias*** Campsite: the perfect base for exploring the Loire Valley
Discover out services